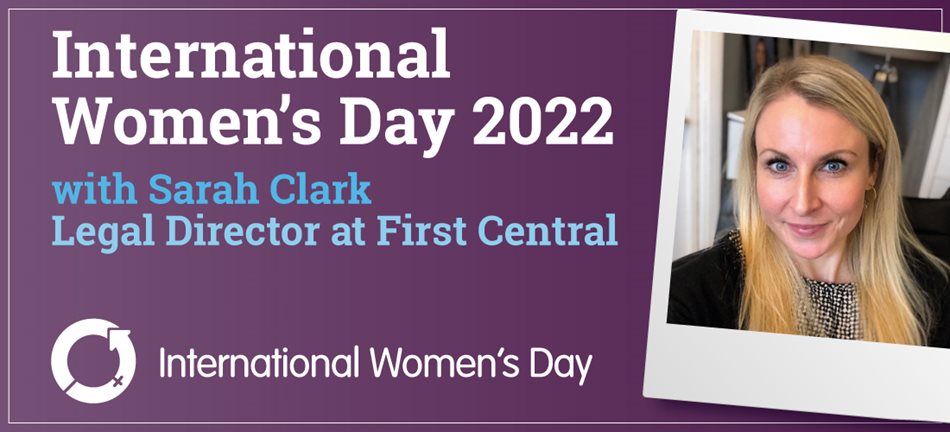 Name: Sarah Clark
Position: Group Legal Director

In no more than 200 words, tell us who you are. What drives you, what does home life look like?
I'm the Group Legal Director. I've been at First Central for just over a year now and I look after the Legal and Procurement teams. I'm a barrister and started my career with a practice in criminal law at the independent bar and have had a variety of in-house roles in lots of different industries over the past 10 years, most recently as General Counsel and Company Secretary at a challenger bank. I love leading teams and have a passion for understanding people and helping them perform at their best to develop their careers.

At home, I'm a single mum of 13-year-old boy/girl twins. We live in Sevenoaks with our crazy dog, Lottie, who is half Labrador and half working Cocker Spaniel (possibly half kangaroo and definitely, certifiably insane). We love the outdoors and have a campervan (called Wilson) which we love taking on adventures. Wilson is kitted out with a kayak, a paddleboard and a fire pit and generally has 3 mountain bikes strapped on his back. I spend as much of my spare time as I can, outside, and I feel happiest when I'm in the fresh air (in all weathers), ideally somewhere I can see lots of sky and bonus points for being up a mountain.

Who in your career has been the most inspiring and why?
I'm fortunate to have had some really fantastic female role models throughout my career. A number of the most senior female judges in the country came from my chambers and we had an unusually high proportion of female QCs. I was never in any doubt that I could achieve whatever I wanted and that was primarily because there were incredible women ahead of me, paving the way, which was very powerful for me as a junior barrister.

What's been your experience as a woman in a male-dominated sector? Any tips?
My chambers was one of the first to achieve a 50:50 male/female balance. Outside of chambers, the wider bar and the judiciary (much like the insurance industry), were heavily male dominated, but having that balance in my own chambers gave me courage 'out in the world', with difficult male opponents, amorous male instructing solicitors and misogynistic judges (there are stories I could tell you in each category, over a glass of wine). I've found it really important to be authentically myself, as a woman in a male-dominated industry, not to feel the temptation to either take on more 'masculine' traits to feel equally powerful, or to feel the need to over-leverage my femininity, to get the attention I've needed to succeed. I've seen women who have felt the need to be 'ball-breakers', or to be 'one of the lads' and witnessed some incredibly clever female QCs behaving like 'Legally Blonde' in front of Old Bailey judges, but I've tried hard to stay grounded and just be 'me'.

What are you most proud of to date and what challenges did you overcome to get there?
I'm proud of having been a member of Red Lion Chambers in my early career, one of the most distinguished criminal and regulatory sets in the country. In more recent years, I'm very proud of having been the only woman on the Executive Committee of a newly authorised bank, at DF Capital. But, at the risk of sounding cheesy, I'm most proud of where I am right now; doing a job which I genuinely love, in a company with a culture I can truly get behind, where I feel valued and respected, and enables me to have a good standard of living. I feel I'm setting an important example to my kids.

This year's theme for International Women's Day is #BreakTheBias; what one thing could the industry do to support diversity and inclusion?
For me, it's vitally important for us to break the bias in all areas and not just gender diversity. When we can allow people to truly be authentic at work; regardless of their gender, race, religion, sexuality, neurodiversity or other attribute and recognise that everyone brings something unique to the party, then we'll get there. The corporate world was designed for a different time, but I think that, unexpectedly, a global pandemic has forced us all to be more authentic and accepting in our working lives, because we have blended home and work like never before. I hope this trend continues and that we can break the bias, across the board.

Why is First Central an inclusive employer? What are your experiences internally?
I can only comment on my own experience, but I have never felt so able to be authentically me at work as I do at First Central. I feel that I'm celebrated as a female leader in the business. I feel that my voice is listened to and, in fact, actively sought out on important issues. As a leader, I feel empowered to speak up for my teams and to put measures in place to improve their working lives and accommodate their needs. In our Senior Leadership team meetings, we spend a lot of time talking about employee wellbeing and brainstorming ways we could do better at being inclusive.

What advice do you have for any aspiring female leaders?
Be authentically you! You are valued and you bring amazing things to the table. The business and the industry will be better, happier, more creative, more emotionally in-tune and more profitable, when there is greater diversity – we need you!