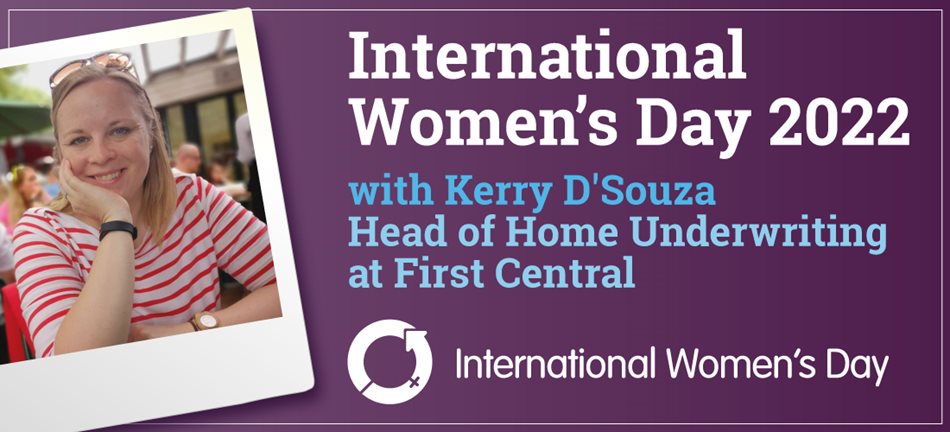 Name: Kerry D'Souza
Position: Head of Home Underwriting

In no more than 200 words, tell us who you are. What drives you, what does homelife look like?
I joined First Central in January as the Head of Home Underwriting and I'm really enjoying my new role, having met lots of great people so far. I live just outside Dorking with my husband, our 12-year-old daughter and 3 cats. Life at home can be very busy, as both my husband and I work full time, but we ensure that we spend time as a family and prioritise the stuff that really matters to us. We're lucky enough to live really close to the countryside, so we like walking at the weekends, followed by a good pub lunch. I also like a good escape room and a pub quiz.

I love working in Underwriting and am very results driven. It's important to me to be part of a team that's all pulling in the same direction to achieve a goal and wants to get things done. I thrive on developing others, and in turn, usually learn a few things about myself at the same time. I'm very mindful to create a balance between my career and family. The world has changed in the last 2 years and now flexible working is easier and more accessible – as a working parent, it's something I'm keen to champion.

Who in your career has been the most inspiring and why?
Very early in my career, I was lucky enough to work for a female leader who was incredibly talented and hardworking. She was a great role model for the type of leader I wanted to be. She was also very generous with her time and knowledge, and I learned a lot from her. Her approach was direct but considered, and she always took the time to understand the situation before reacting or making a choice. She was very astute and knew how to ensure her opinion counted. I still use what I learned from her today.

What's been your experience as a woman in a male-dominated sector? Any tips?
I started working in contact centres where the senior leadership roles were generally held by men. We often had very diverse teams with people of all ages, backgrounds and experience which I enjoyed, but it was difficult to see a path into senior management with very few female role models. Moving into product and underwriting roles, I've often worked in teams where I'm the only woman in the room and the team dynamic can be difficult to navigate as a result. When I became a parent, I no longer had the option to stay late or go out for a quick drink after work with the team. Life was scheduled and while meetings lingered past 5pm, I knew I had a hard stop for nursery pick up. I was often having to leave meetings citing childcare and could see the exchange of looks across the table, but I knew I worked harder and more productively than many of those people for the rest of each day. It also meant that decisions were being made in my absence and this led to a feeling of being excluded. Maintaining a balance between my career and bringing up a child meant that I had to make a choice around what was important to me. This meant that I didn't always go for opportunities that perhaps I should have done for fear of getting caught up in a long hours culture.

I have experienced bias where I've been asked to pick up extra jobs such as organising team meetings, minute taking etc. I have often had more responsibility than my male peers yet earning a lower salary at the same time. I've experienced being ignored in meetings to being told to dress more like a man if I want to get ahead. Early in my career, I would accept that this was just the way things were but as I've become more experienced, I'm more mindful around challenging that behaviour when I see it.

What are you most proud of to date and what challenges did you overcome to get there?
I'm very proud of the time I spent working on a large-scale transformation programme as the Underwriting lead. The opportunity arose and I put myself forward – it felt like a bit of a leap, and I was nervous and second guessing myself, but I wanted to push myself into something new and ambitious. I had a small team, and we were really thrown in at the deep end, suddenly working in a large change project, which was also trying to implement agile methodology. It was a really challenging time as we had a number of deadlines to meet and there were a lot of stakeholders involved. I quickly saw that the key to success was to ensure that we really focused on our deliverables by creating ambitious but realistic plans that we stuck to. The team was small but had a variety of experience which we used well to plan and prioritise our output. We built our underwriting rules in record time and showed how quickly we could produce output within the organisation by embracing the agile methodology and focusing on one common goal.

This year's theme for International Women's Day is #BreakTheBias; what one thing could the industry do to support diversity and inclusion?
Many women in the insurance industry find it hard to progress their career as they would like. In order to support and promote more female leaders, the industry needs to champion flexible working and focus on skills and experience, so the right person gets the job. This isn't about tokenism or creating a gender balance for the sake of it. There's a wealth of female talent in many organisations that isn't being used to its full potential. Insurance companies need to spend more time making the most of that female talent, so that senior leadership teams make the most of the available talent and are more representative of the company and its customers.

Why is First Central an inclusive employer? What are your experiences internally?
Having joined First Central in January, I'm very much a newbie, but I've been very impressed with the representation of female leaders in the business. I've already spotted some women in meetings who I know have got a great career ahead of them. The company really embraces promoting talent within as well as recruiting new people based on the individual merits. Women are well represented in the ExCo and there are many women in senior leadership roles who are keen to push female talent and ensure we continue to remove the barriers that women often face.

What advice do you have for any aspiring female leaders?
Be open to change and grab opportunities that come your way to help you grow and develop yourself – every new piece of work is a chance to gain experience. Always have a growth mindset and don't close down opportunities because you're afraid that you can't meet the challenge. Pushing yourself outside your usual skill set will help increase your confidence and show you what you're capable of. Call out if people are mistaking confidence for competence – at times I know I've seen women that should have progressed, be overlooked in favour of noisier, but less capable men. Grow your network and link in with leaders who inspire you. People are far happier than you might think to give their time to help others with their development, so consider getting a mentor and don't be afraid to ask. And finally, champion yourself and others around you – celebrate success wherever you can.