Spotlight on: Connie Beasley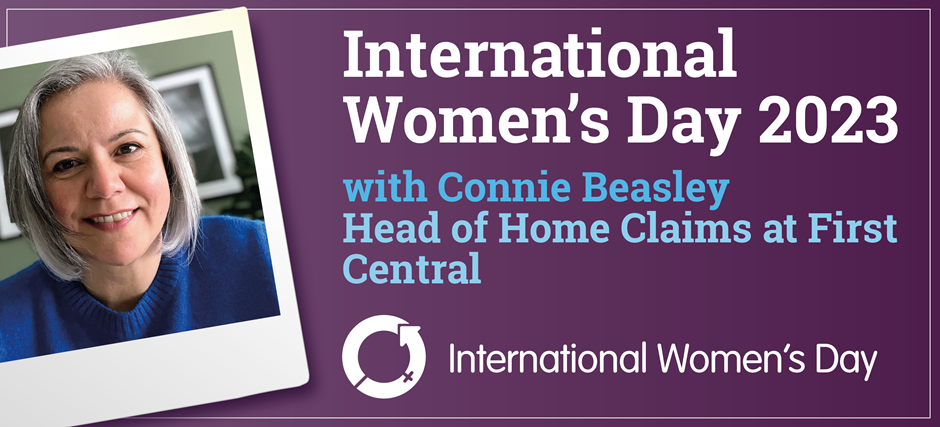 Name: Connie Beasley
Position: Head of Home Claims

In no more than 200 words, tell us your personal background, who you are and what drives you?
I'm driven to make a positive difference in people's lives, and I'm proud to champion diversity and inclusion. I'm also passionate about developing people and teams who are engaged, empowered and inspired to thrive.

In work:
The serious bit - I'm responsible for the strategic processing and payment of claims through cultural leadership.
The best bit - serving my people, helping them become happier and more successful versions of themselves so they know they make a difference; they are valued and cared about! Having worked in the insurance industry for 26 years, I've scooped up a wealth of experience in progressive leadership and management in various environments with a spectrum of stakeholders in the Claims industry, from Lloyd's of London, Broking, MGA, TPA and Surveyor & Building Suppliers. I'm goal-focused, creative and self-motivated, but my real passion is for people, and I strive for a people-first culture in any environment, which gives me a real buzz when I'm learning and connecting with like-minded people.

Out of work:
I enjoy long walks, great food and wine, fabulous company, and being pathetically soppy about my two boxer dogs!

Who has been most inspiring to your career and why?
My grandmother has been the most inspiring person in my career. She was a strong, hardworking woman who never gave up despite tough times. She taught me that no matter what if I worked hard and kept going, I could achieve anything I set my mind to. Her example of resilience and determination has been a great source of inspiration throughout my career. Beyond that, some excellent industry-based mentors have supported me through my career and helped me recognise my true worth.

What's been your experience as a woman in a male dominated sector?
My experience as a woman in a male-dominated sector has been mixed. On the one hand, I have some great male friends and colleagues in the industry. There is a certain level of respect and appreciation for a woman willing to take on a challenge and go against the grain. On the other hand, the reward and recognition were certainly different from my male colleagues. I had a moment of realisation when I sat my Lloyd's Broking Exam; I learnt that women had only been allowed inside Lloyds in 1973! I found this shocking! I have experienced discrimination and exclusion due to my gender, surname and socioeconomic background; in the '90s, when starting in insurance, I turned down a role because the male interviewer asked what my parents did for a living! I have found that I have succeeded in this sector by working harder and proving my worth. I advise women entering this sector to take on the challenge and be resilient. Don't let anything stop you. Be prepared to work hard and prove yourself. Be confident in your abilities and skills, and don't be afraid to speak up. Also, look for mentors and support networks; you don't have to do this alone.

What are you most proud of to date and what challenges did you overcome to get there?
I am most proud of everything that has led me to write the answer to this question. Where I am today and the accumulation of knowledge, skills, and fun I have had along the journey. I have overcome many obstacles to reach this point, including a lack of resources, financial constraints, and support. Finding creative solutions and being relentless in my pursuit of success; I am proud of what I have accomplished and driven by what is to come. I am also proud of my relationships with family, friends, and colleagues. Building strong connections with people has been a key factor in my success and I could not have achieved what I have without their support. I am thankful for all of the relationships that have helped me grow and become the person I am today.
Finally, I am proud of my resilience and perseverance through difficult times. No matter the challenge or obstacle, I have never given up. I have always found a way to move forward, to learn and to grow. This is something that I will always take with me and use to reach for greater successes.

This year's theme for International Women's Day is #EmbraceEquity. Why are equal opportunities no longer enough and what can we do to create a more equitable society?
Equal opportunities are just not enough because they simply do not address unequal power dynamics and unconscious bias. To create a more equitable society, we must start by engaging in conversations about diversity and inclusion, recognising our biases, and dismantling existing systems of oppression. We need to support initiatives that promote gender parity and dismantle gender roles. We must also prioritise and invest in systemic change, such as equal access to resources, education, and employment opportunities. Finally, we need to promote and support female representation in leadership roles.

Do you think First Central is an inclusive employer? What have your experiences been internally?
Yes, I do believe First Central is an inclusive employer. I work with colleagues from various backgrounds and cultures, and everyone is respected and appreciated. The company also has initiatives to promote diversity and inclusion in the workplace, such as diversity and inclusion training for all staff and an internal committee focused on promoting diversity and inclusion. Reverse mentoring is always a great tool which I understand First Central use. We must be bold and strive to do more in supporting those coming through.

What advice do you have to any aspiring female leaders?
My advice for aspiring female leaders is to focus on your goals and never give up. Believe in yourself, work hard, and don't be afraid to take risks. Create a strong support system of people who will encourage and challenge you. Be confident in your ability to lead and take ownership of your decisions. Finally, be proud of who you are and the unique skills and talents that you bring to the table.