Spotlight on: Alison Carter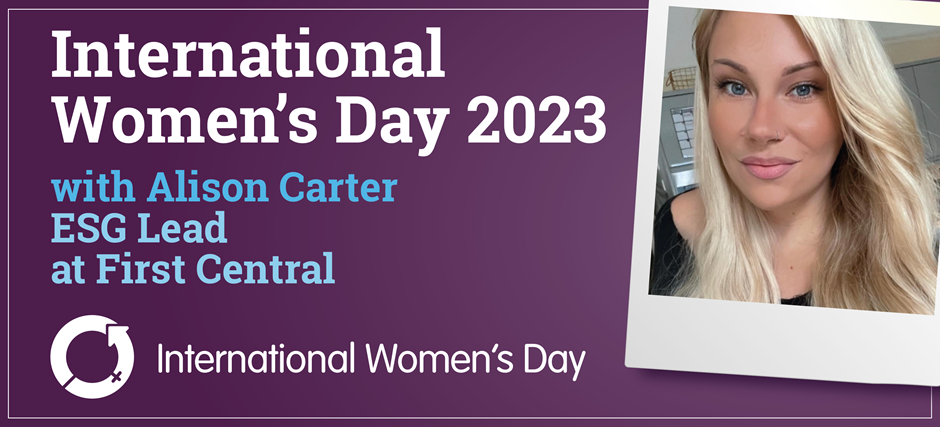 Name: Alison Carter
Position: ESG Lead

In no more than 200 words, tell us your personal background, who you are and what drives you?
I am ESG Lead at First Central, with a background in Governance and Executive administration. I am a woman in my mid-thirties who is embracing my career and has decided that growing a family isn't for me... except for my fur baby. In my spare time I love wine, reading, writing (and playing The Sims - don't judge me).

Who has been most inspiring to your career and why?
I have been very lucky to be exposed to some amazing female mentors over the years (and there are so many at First Central). But in the interests of diversifying my answer i'll talk about an old boss. I was PA to the Headteacher at a school which was Requires Improvement (Ofsted Rating). The school was painfully underfunded and in desperate need of a hero and there she was. She turned the place around and it wasn't because she was perfect, it wasn't because she wasn't scared, it wasn't because she had all the answers - it was because she cared. She had experienced hardship in her own life, and she made it her superpower. I am forever grateful for the lessons those years supporting her taught me.

What's been your experience as a woman in a male dominated sector?
Honestly, I was unaware until recently about how being a woman had impacted my career. Only upon learning and reading more about Diversity and Inclusion did I begin to notice. I think we sometimes perceive the problem as being all about misogynistic comments in the boardroom, but it's more insidious than that. For me, it's about unlearning what society has taught me to be. I don't always need to be polite and quiet. I can ask for that pay rise. I can take space in a room full of men.

What are you most proud of to date and what challenges did you overcome to get there?
I think I am most proud of leaving a long-term relationship which was no longer serving me. My ex-partner is a wonderful human, and he did nothing wrong, he is still and always will be a close friend. But after 10 years, a house and a dog, we had become different people. I realised I was going through the motions and didn't want to be a mum. He is now a father to a beautiful healthy son and I couldn't be happier for him. That might not sound like an achievement to some, but I think we too often celebrate success within a professional context and forget that people make brave choices everyday - it's just a part of life.

This year's theme for International Women's Day is #EmbraceEquity. Why are equal opportunities no longer enough and what can we do to create a more equitable society?
Recognising that people start the race in different positions is everything. Equity is just understanding that certain circumstances come with disadvantage, and we need to try harder to plug that gap!

Do you think First Central is an inclusive employer? What have your experiences been internally?
I absolutely do, but of course I would say that. This is the best place I have ever worked and I am a huge supporter. However, I think we have to roll our sleeves up on diversifying our workforce and nurturing a culture of allyship and belonging.

What advice do you have to any aspiring female leaders?
Stop looking for perfection in everything you deliver. It isn't realistic or sustainable. I still struggle with this personally and think it links back to those pesky societal expectations of women. But I am trying to not devalue my work because I wanted to do more. Providing you've tried your best and it does what it needs to - take the credit you deserve.