It's the season of giving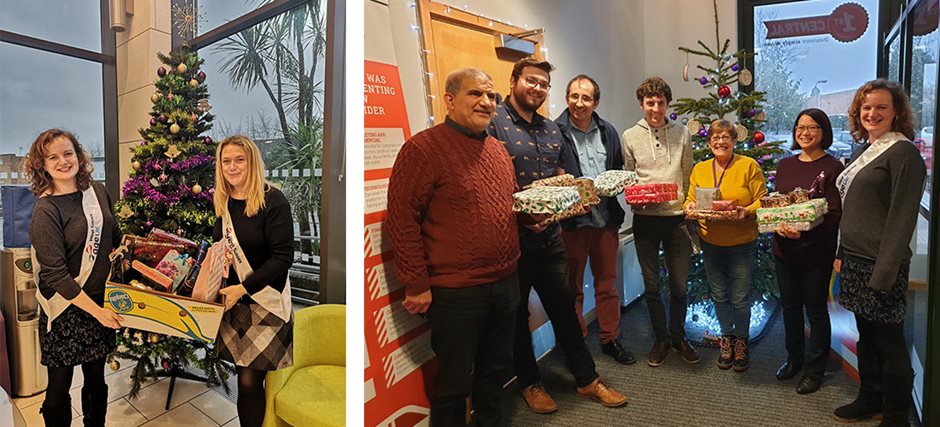 We've been getting into the festive spirit here at First Central, by spreading some Christmas cheer to those who are less fortunate than us.

Our employees in West Sussex got involved in Age UK's Christmas scheme and collectively bought over 90 gifts for its elderly members. For some, this may be the only present they receive over the festive season.

We also helped Turning Tides, a homeless charity in Worthing and Horsham, by donating £115 worth of £5 vouchers to anyone who is on the streets on Christmas Day. We hope these vouchers will brighten up what is sure to be a dark day for some.

And it wouldn't be Christmas without us getting involved in the annual Christmas Hamper Project for the King's Church in West Sussex. Our people got together to compile food hampers for families in need this Christmas and the elves from our Performance Function team then gave up their precious time and volunteered to help this amazing community project.

This year an incredible 300 hampers were given out to local people, which is significantly more than in previous years, and our help was invaluable.

Meanwhile, our Gibraltar team, and their friends at Robus, collected gifts for Mount Alvernia, Elderley Residential Service in Gibraltar.

And our Guernsey colleagues didn't disappoint either, as they collected 27 gifts to be handed out to the elderly residents on the island who are receiving nursing care in their own homes. A visit from the nurse may be the only person they see this Christmas, so receiving these gifts will hopefully put a smile on their faces this year.

Well done to everyone who got involved with these brilliant charities. We're sure it means the world to them and those that benefit from all the gifts.

Our Manchester colleagues have been busy helping out in the local community too. Many of them volunteered to help out at Mission Christmas, and Wayne Jones and Dani King volunteered at Radio Lollipop, the resident radio station at Manchester Children's Hospital. Together they helped to give the station a magical revamp by decorating it in a fairy-tale theme, complete with castle playhouse, dressing-up costumes and toys for the children to play with.

And finally…the Dame Vera Lynn Children's Charity received an early Christmas present, as we joined the other sponsors and organisers of the Greater Haywards Heath Bike Ride to present a cheque for £8,000 following a successful fundraising event back in October.

We wish all our community partners a very happy Christmas and best wishes for the new year!