First Central sets challenges to increase biodiversity in Guernsey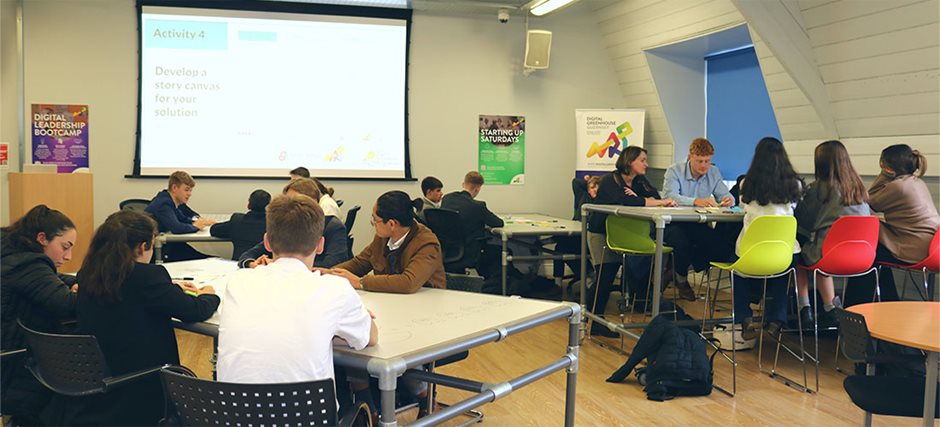 We're once again delighted to be involved in the Digital Greenhouse's Digital Innovator Programme, which kicked off this week.

Now in its fourth year, the programme invites sixth form and College of Further Education students in Guernsey to tackle a skills problem statement using technology-based solutions.

The purpose of the programme is to develop opportunities for young people to engage with digital technologies, with over 150 students expected to benefit over the next 6 months.

The first session asked 18 Grammar School students to create solutions for the following problem statement set by our First Central team: "Decline in biodiversity is having a dramatic effect on Guernsey's environment. How can islanders use technology to have a positive impact on biodiversity?"

Assheton Kennedy, IB Careers student at the Grammar School & Sixth Form Centre, said: "The first session has been great so far and I've enjoyed learning about modern technology and biodiversity.

"The session has been very interactive, and we've worked together as a team to come up with solutions using technology to help reduce the impacts of biodiversity locally. The solution we've been working on is an ecommerce website for the Guernsey Dairy with the aim to minimise waste. Less waste will mean less milk will need to be produced, and therefore we won't need as many cows and some of the farmland can be freed up for wildlife."

First Central's Chief Information Officer, John Davison, said: "The Digital Innovator Programme was developed four years ago to help minimise the digital skills gap locally. The programme helps students to learn technical skills so they will be equipped for the digital future. Each year the programme has grown in popularity and has been really successful, with 94 students taking part last year.

"The first session was a great way to get the students thinking about how technology can help solve real world problems including topical issues like the environment. There are lots of exciting career opportunities in the technology and creative sectors, so it's vital we have enough local talent to ensure our island is future proof."

Lucy Kirby, Head of Digital at the Digital Greenhouse, said: "Guernsey is a real hub of innovation and this scheme gives young people the chance to showcase their skills and also to learn new ones in a hands-on experience beyond the classroom. The innovation, entrepreneurial and personal skills they'll learn will be useful in all aspects of life, including the workplace. This year's problem statement is especially timely as the world debates what can be done to reduce the impact of climate change at COP26."

The initiative continues throughout the academic year, with sessions each half term and will cumulate in a final competition where the students will pitch their solutions.