Celebrating outstanding volunteers from cricket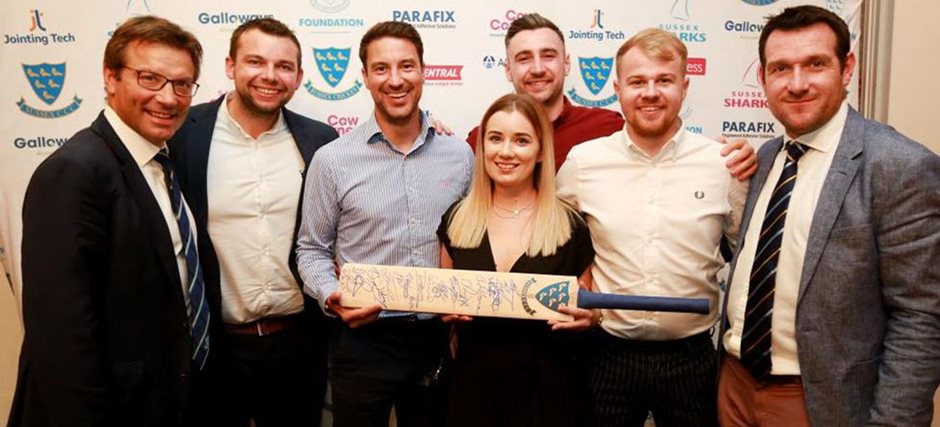 Cricket in Sussex relies on thousands of volunteers to promote and develop the game, and 200 of the hardest working volunteers from across Sussex gathered for the NatWest Outstanding Service to Cricket Awards (OSCAs) ceremony at the 1ST CENTRAL County Ground.

The OSCAs aim to reward the contribution that volunteers make to the game, with six nationally recognised awards handed out during the evening's proceedings. In addition, there were two Sussex awards for 'All Stars Cricket Activator of the Year' and 'Groundsman of the Year'.

A few First Central employees were there to support the event, and our very own Tom Ward presented two awards.

The 'Heartbeat of the Club' award went to Ian Guppy from Aldwick Cricket Club, for his contribution to the resurrection of the club from arson a couple of years ago. The club is now in the best position it has ever been in, with a new pavilion and growing junior section.

And 'The Most Inspiring and Diverse Cricket Offer' was awarded to Kevin Ives from Lewes Priory Cricket Club. He's one of the club's key members who has pulled it back from the brink, which has been inspiring.

The winners of the six nationally recognised awards, will head to Lord's on Monday 14th October, where they'll have a chance of winning the award in their category for the whole country.



Pictured here with Rob Andrew, Chief Executive of Sussex Cricket, and Chris Coleman, Head of Community, are our employees Tom Ward, Alex Lavan, Rebecca Davis, Darren Cockell, and Oliver Beadell.